The Badgers of Aigas
25 November, 2021. Posted by Aigas Field Centre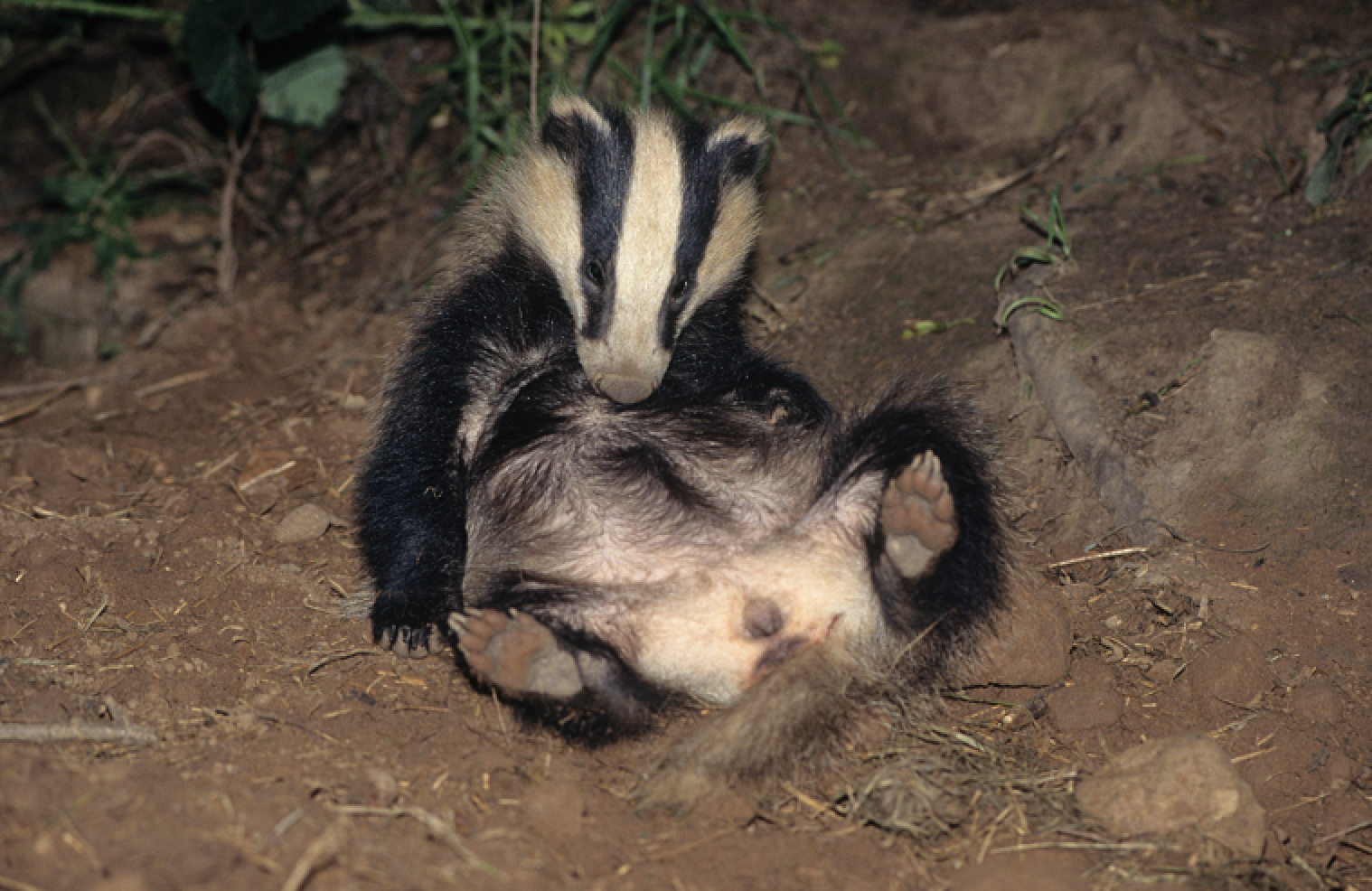 Now that the Aigas visitor season has come to an end, life on the Aigas estate changes with the cooling weather. As our seasonal staff return home for the winter, our academic placements begin to learn that outside of the season the field centre is just as busy as ever.  A greater amount of the daily responsibilities of the wildcat breeding programme are handed over to the placement students, who now have a greater opportunity to get to know the individual personalities and behaviours of each wildcat. This is vital as it helps us with monitoring and keeping track of any behavioural or appetite changes to best ensure the health of our cats. Site maintenance is also an important part of the wintertime at Aigas, ensuring that the field centre is in tip top shape in time for guests arriving in March. Our staff naturalist Calum heads up a number of conservation projects on site and in the community forest such as habitat surveys, nest boxes and tree planting. Alongside this each placement student is tasked with coming up with a winter project on the Aigas estate, with one of our placement students, Josephine, choosing to collate an up-to-date catalogue of the badger individuals we have visiting the site. This catalogue will be compiled through identification of individuals through regular hide visits to both our Quarry and Campbell hides as well as camera trap footage. The information collected and individuals identified over the winter will be continued and used with guests throughout the 2022 summer season.  
The European badger (Meles meles) is a regular in many gardens throughout the UK and have been a common visitor in our ranger-led hide visits at Aigas this season. Their endearing and individual personalities have been throughly enjoyed by guests and staff alike, therefore, Josephine thought it would be a good winter project to try and identify and potentially name some of the individuals we have regularly visiting.  
But first some general information about these charming animals. Badgers are the largest member of the Mustelid family – a group of mammals that also includes weasels, ferrets and pine martens. Badgers have been present in Britain for up to half a million years, once living alongside wolves, brown bears and wolverines. In terms of diet badgers can be described as 'opportunistic omnivores' with a taste for earthworms, snails, slugs, beetles, and soft fallen fruit such as raspberries; however, earthworms do form the basis of a badgers diet with some adult individuals consuming up to 200 earthworms in a single night!  A typical feeding sign of a badger is a snuffle hole, a small pit (between 10-15cm in size) formed by the badgers snout as it searches for food, tending to have a conical uneven shape with more material removed on one side. In order to tempt badgers into our hides we bait the apparatus with a handful of unsalted peanuts, a tasty snack full of protein that the badgers thoroughly enjoy.  
As well as identifying individuals, this project provides the opportunity to observe badger behaviour. Badgers have an interesting social dynamic in that they live in mixed-sex groups of between four and eight badgers in complex underground burrows known as 'setts'. These burrows are typically found on centre slopes in deciduous woodland and copses and can extend between 20-100 metres underground and have up to 50 different entrances. These burrows are passed down through generations of the same social group meaning some setts can be over 100 years old; added to and maintained by each new generation.  
Despite living together in a social group known as a 'clan', badgers tend to forage individually rather than as a group. Not only is a badgers sense of smell is vital in foraging but also in social communication. Badgers have what's called a subcaudal gland which is used to scent mark territory boundaries but also distinguish members of their own clan by leaving a scent mark on them – this is an important social behaviour known as allomarking. Each individual badger produces gland secretions which are unique and can provide information to others about clan membership and individual health and fitness.     
Badgers display a number of fascinating reproductive techniques to increase their reproductive success. They typically mate between January-May and July-August with male badgers sometimes travelling to other clans to find suitable mating partners and females often mating multiple times with different male badgers to increase the chance of pregnancy. However due to a reproductive process known as delayed implantation, a cub can be born nearly a year after the egg was first fertilised despite badgers only having a gestation period of 6-8 weeks. This process is seen in a number of other mammals such as bears, roe deer and sea lions, and is a strategy to ensure that the mother is able to build sufficient energy and nutrient stores in her body before giving birth. The fertilised egg will remain in the females womb until shorter day length in December or January triggers a hormonal response in the female resulting in implantation, meaning most badger cubs are typically born between January and March. Badgers are also one of only six mammals which display a reproductive process known as superfetation, which is the production of new embryos after the female is already pregnant increasing reproductive output and ensuring litters with multiple cubs.  
So, how do you identify and distinguish one badger from another? Boars (males) are typically larger than Sows (females) and have a wider head, fuller cheeks, and thicker necks. The tail can also be used to sex individuals with females typically having shorter, broader tails compared to the longer, thinner tails of males which typically are a lighter colour. In terms of individual characteristics, the shape and width of the distinctive facial stripes seen on badgers is a key identifying trait. Due to their territorial nature and powerful limbs and claws, badgers are often involved in fights which can leave them with unique scars which can be used as an identifying feature. The white tufts on their ears can also be used in identification as the tufts are often lost in conflict with other badgers, as the amount of ear tuft left is another distinguishing feature. These characteristics, along with individual colour differences such as albinoism and erthyrism (a genetic condition whereby the fur is brown due to the presence of a reddish pigment in the skin), can help differentiate one badger form another.  
One of the biggest threats to badgers is Bovine tuberculosis (TB), a respiratory disease which can be carried by badgers which is highly infections and affects cattle. Historically badgers have been blamed for the spread of Bovine TB and populations have been culled as a result. Luckily bovine TB is not present in Scotland and Scottish badger populations have therefore been spared from its impacts. However, the same could not be said in England where despite badgers and their setts being protected under the 1992 Protection of Badgers Act, more than 140,000 badgers have been killed in England since 2013 through the badger cull. Bovine TB is unfortunately a complex and often politically driven debate, however badgers have become an unfortunate scapegoat in Bovine TB management strategy. Most of the transmission of Bovine TB in cattle is cow-to-cow and research has historically proven that badger culling is not an effective form of managing the spread, as culling or disruption of badger setts and clans causes the dispersion of remaining individuals resulting in greater badger-badger and badger-cattle mixing. Instead, accurate TB testing of cattle and effective vaccination is the best way forward for both cattle and badgers. There is hope as successful campaigning and education could help stop the needless culling of the English badger population and help one of the nations most loved land mammals to regain its footing in the English countryside. 
We will be providing updates on individuals as the catalogue is compiled over the winter season so keep an eye out on our social media pages for updates on names and how our badgers are getting on at Aigas. If you also have badgers regularly visiting your garden perhaps try identifying and learning to distinguish some individuals yourself!
Words by Josephine Tod. Images all by Laurie Campbell