Rural Skills at Aigas
22 December, 2017. Posted by Aigas Field Centre
Over a period of 9 sessions, a group of S3/4 students studying Rural Skills at Inverness Royal Academy have been coming to Naturedays to get practical experience related to what they have been learning.
Activities that the group of students have been carrying out include an estate tour, stream clearing, pothole filling, putting up fences, planting bulbs, path cutting, shrub pruning and maintenance and raking leaves.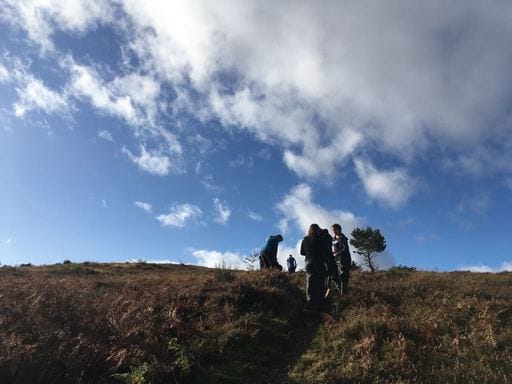 As well as all of this, over a few weeks they scrubbed the wooden balustrades of Hen House, one of the cabins that Aigas guests stay in during the season, to clean them and get all of the varnish off before adding a new layer of varnish so they look good as new.
The most recent project they have been working on is around a pond that one of the education team installed in the cottage garden at Aigas. After putting a strip of fencing up around the area, they dug a path around the pond and did some trimming of the surrounding willow and weeds. They then put a layer of tarpaulin down to prevent weeds growing through, before putting sand in with gravel on top to finish it off.
On top of learning practical skills which they can use, they also improved their workplace skills such as teamwork, communication and organisation which can help them in future employability.
Written by Tierney Chalmers. Pictures by Tierney Chalmers.