Meet our new Academic Placement students from the University of Exeter
30 September, 2020. Posted by Aigas Field Centre
On the 31st August we said a fond farewell to two of last year's placement students; Charlotte and Christopher. Both arrived to Aigas a year ago and quickly became an integral part of the Aigas team. They worked hard over the winter to help us create a new open-air wildcat enclosure, took responsibility in monitoring our beaver and pine marten populations and many other important roles with social media, habitat surveys and research. Immediately after their eight-week ranger training in February and March, it became obvious that we were not going to be able to open for the 2021 season as a national lockdown loomed over the country. On 16th March we shut our doors and isolated together as a community. Chris and Charlotte continued their hard work over the summer as we continued with estate conservation work throughout lockdown. When in mid July we were able to open for guests, they jumped at the chance to lead guided walks on the estate and restart days out to nearby glens and straths in search of golden eagles and otters, putting into practice everything they learned in training. We very reluctantly said goodbye, before welcoming three new academic placements who have now been with us for a month.
*Incidentally, if you are wondering what happened to our third 2019/20 placement student, Paige, she has decided to defer her final year of university and will be staying with us for another year, which pleases us immensely!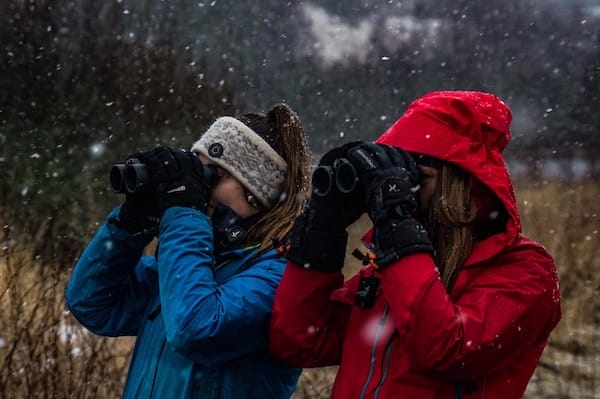 After their first month, our three new academic placement students have shared their initial experiences on working at Aigas;
Tom:
After our first few weeks of a 12-month Academic Placement we are starting to get to grips with what it means to be an Aigas Ranger, whether that's learning how to care for the wildcats in Aigas' Conservation Breeding Programme or helping to show guests the amazing sights of the Highlands. While our 14 day quarantine period meant we couldn't move into Sequoia Lodge (the ranger accommodation) with the rest of the ranger team, we still got a chance to explore the estate and even got our first sightings of some of Scotland's best wildlife, from playful pine marten kits at the Campbell Hide to beavers working away on the loch. Four weeks in, we've moved into Sequoia, our home for the year, and even managed to experience our first week going out with guests out to see the Scottish Highlands, as part of Aigas' Nature Photography Masterclass with Laurie Campbell, Fascinating Fungi with Liz Holden and Aigas Wildlife courses. As the next few weeks unfold, I'm sure we're going to see even more of our stunning new home and learn exactly what adventures and opportunities this year has in store for us.
Lotti:
This first month at Aigas has been a welcoming introduction to the Scottish Highlands and the estate's workings, and a great start to a promising placement year. The estate harbours an abundance of wildlife and I've rarely gone a day without seeing a red squirrel bound across the lawn, birds of prey circling the moorland, or a new sign of beaver activity! A definite highlight has been seeing and learning about some of the rarer and more illusive British animals, from beavers, pine martens and crested tits on site to golden eagles and rutting stags further afield. It has also been a rare privilege to work with the wildcats of the breeding programme as part of a future reintroduction effort, as well as learning about their behaviours and individual personalities. On the Field Centre side, it has been really enjoyable talking with guests and hearing their wildlife experiences and exploring the local Highlands with them on days out, learning about the local ecological history and wildlife.
Louis:
I have thoroughly enjoyed my first few weeks at the Aigas Field Centre. All the staff have been very friendly and welcoming and the range of work I've done is both interesting and fun. A recent highlight of mine was seeing golden eagles and a late-to-migrate osprey, neither of which I had seen before in the wild. I'm looking forward to the year ahead, with opportunities; to learn more about the history and ecology of the area, to see more amazing wildlife and help around the estate with conservation projects.